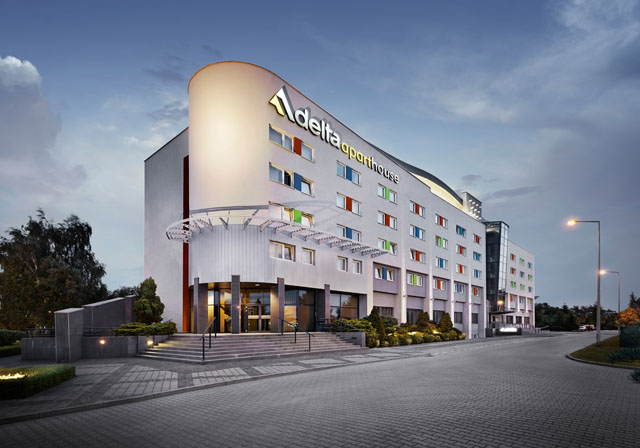 start / flats / description
The flats of DELTA APART HOUSE are an ideal choice for people on the lookout for a flat in Wrocław. We offer accommodation for both private entities and company employees over any timespan, even for as brief a duration as a month, depending on the needs of the client. Our studio flats present a sense of homeliness and a cosy atmosphere, as well as guarantee discretion and security.
Of particular merit is the flexibility of our prices, which are reduced considerably in respect to a longer lease. In a building that is both comfortable and conveniently located for living and work, our studios are a perfect solution for companies – comprehensively furnished and equipped, they provide you with a great alternative to hotel offers. Employees as well as guests of your company will surely appreciate the standard and comfort of our flats.
We also service groups coming to Wrocław for training, rallies or seminars. We offer framework agreements for those interested in continued cooperation and long-term rentals, which ensure preferential terms of lease oraz accelerate the process of accommodation.
We allow you an option to arrange a temporary registration of residence if the stay of your employee requires it.
Framework agreements mean:
• preferential pricing on all of our services,
• simplified forms of settling accounts, formalities reduced to minimum
Furnishings
Our flats consist of a living room, a kitchenette and a bathroom. The total meterage is 30 m2.
They are two-person with two separate beds allowing the accommodation of two independent guests.
The flats have brand new furnishings and a modern design. The area has been utilized harmoniously and efficiently in order to maximize living space.
The kitchen equipment includes: a ceramic hob electric cooker, a baking oven, a microwave, a refrigerator (with a deep-freezer), an electric kettle and kitchen utensils (along with cutlery, glasses, a corkscrew, a chopping board and more).
In the bathroom the following can be found: a bathtub with shower, an automatic washer, a cabinet for utensils, paraphernalia and towels.
The room is outfitted with capacious wardrobes, closets, bookshelves and drawers, a dining table with 4 chairs, a coffee table, a convertible couch and a set of bed linens.
WiFi internet in the flat is provided free of cost.
The reception is at your disposal 24 hours a day. There, the following can be lent: a clothing iron, an ironing board, a hairdryer, a hair iron and a vacuum cleaner. It also allows you the usage of storage lockers.
Delta Apart House has embraced a non-smoking policy. In order to maintain a healthy environment in our apartments and to ensure the comfort of the majority of our guests, smoking in all apartments is strictly prohibited.
2013-2019 © by Delta Property Sp. z .o.o.